Anchor of DECO DRIVE at 7:30P.M.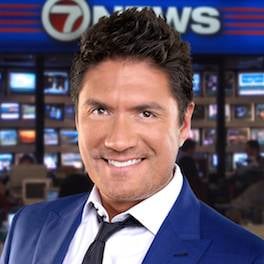 WSVN TV 7 FOX Miami/South Florida
Award-winning journalist Louis Aguirre has had a wild and varied career in TV: from network news to guest spots on hit scripted shows and even some film roles.
Louis began his TV career at Telemundo in 1989 as a Spanish language reporter, where he received his first Emmy nomination for a series chronicling the AIDS Crisis in America.
In 1990, Louis joined South Florida's ABC station as a reporter later becoming weekend anchor after scoring a coveted interview with Cuban president Fidel Castro. In 1994, Hollywood came calling and Louis left South Florida to become a correspondent for EXTRA! That led to a spot as a lead correspondent for A CURRENT AFFAIR and was later tapped as the first co-host for FNC's morning news show, FOX and FRIENDS.
After 3 years at FOX, Louis got bit by the acting bug and left FNC to pursue a more dramatic career. He appeared in numerous commercials and guest starred on hit shows such as Sex And The City, JAG, Burn Notice, Guiding Light, and All My Children.
Louis realized he could pursue both passions at WSVN. He returned to South Florida in 2003 as WSVN's entertainment reporter and anchor for DECO DRIVE, the station's wildly popular entertainment show. In 2004 he won his first Emmy for his special report, "Miracles in the Making".
In 2005 People en Espanol magazine named Louis one of 25 most sexy bachelors. And was tapped South Florida's American Idol insider since 2004 for his insight and commentary during each American Idol season.
A native of Miami, Aguirre attended the University of Miami and the Universite de Paris at La Sorbonne. He is currently co-anchor of DECO DRIVE and continues to report entertainment news for WSVN.