Southern Tornados
Posted by Phil Ferro
Cold front moving across the Southeast has already spawned at least 9 tornadoes since Tuesday night. Most have been across NW Georgia. As the front pushes East, the tail end is now moving into Florida's Big Bend. A tornado watch is in effect over that area until 1 am.
Nasty weather continues to make its way across the Southeast. Since 6am Wednesday morning, at least 9 tornadoes have been reported across NW Georgia. The destruction includes a manufacturing facility in Adairsville Georgia.


Some reports show at least 2 people dead from the nasty weather.
AP says:
Authorities say the storm that has slammed a Georgia town has killed at least one person there.
The massive storm system also has been blamed for the death of a man in Tennessee. He had been taking shelter in a shed when a tree toppled onto it, killing him.
Craig Millsap, the fire chief in Georgia's Bartow County, says officials found one person dead in the storm damage. However, he did not have further details about how the person died Wednesday.
The storm did major damage in Adairsville, northwest of Atlanta. Cars were overturned on Interstate 75, forcing officials to close the highway in both directions.
Thousands were without electricity across the Southeast.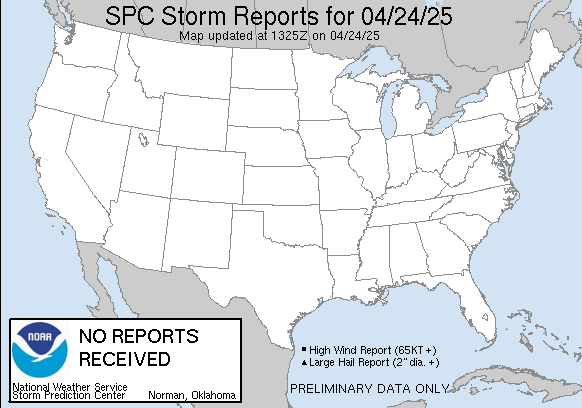 Here are the official NWS reports from Wednesday afternoon:
*3 E LINDALE FLOYD GA SEVERAL TREES DOWN ON PLEASANT VALLEY ǴA

*ADAIRSVILLE BARTOW GA SEVERAL CARS OVERTURNED AT A MCDONALDS RESTAURANT IN ADAIRSVILLE

*ADAIRSVILLE BARTOW GA *** 1 FATAL *** MAN KILLED IN MOBILE HOME NEAR ADAIRSVILLE.EMERGENCY MANAGER CONFIRMS THAT APPROXIMATELY 100 CARS OVERTURNED NEAR EXIT 306 ON INTERSTATE 75.

*4 SE CALHOUN GORDON GA MULTIPLE STRUCTURES DAMAGED ALONG HWY 53 NEAR CALHOUN.

*1700 MOUNTAINTOWN GILMER GA NUMEROUS TREES AND POWERLINES DOWN FROM POSSIBLE TORNADO. MORE REPORTS THROUGHOUT THE WESTERN HALF OF THE COUNTY.

Locally: The tail end of front is expected to push in here on Thursday with a few showers. Temps should drop into the 50's for Dade and Broward, and mid 60's for the Keys. The cool air could stick around until Friday night.